Subscribe to the SEAD Newsletter
Stay up-to-date on the latest news and announcements from SEAD.
Go to Form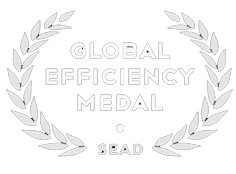 SEAD's Global Efficiency Medal competition recognizes and awards the world's most energy-efficient products.
Learn More
Our Impacts
By 2030, policy measures taken by SEAD's member governments between Jan. 1, 2010 and Dec. 31, 2015 are expected to save around 727 terawatt-hours of electricty each year — equivalent to the annual electricity production of over 240 coal-fired power plants.